Native Canadians to recall boarding school abuse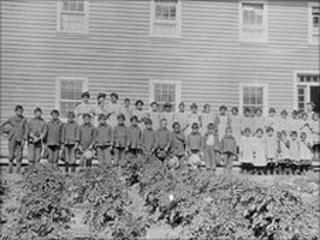 Hundreds of indigenous Canadians are to give evidence before a commission of their experiences at state-funded schools set up to enforce assimilation.
About 150,000 children attended the Church-run boarding schools which operated up to the 1990s.
The pupils were forced to abandon their cultural identity and many were physically and sexually abused.
The truth and reconciliation commission is part of a settlement agreed by the Canadian government four years ago.
The settlement also included an apology from Prime Minister Stephen Harper and more than C$2bn (£1.3bn) compensation for surviving former schoolchildren and their families.
The BBC's Lee Carter in Toronto says the so-called Indian residential schools represent one of the darkest chapters in Canadian history.
For some survivors, disclosing their experiences to the commission may prove extremely distressing, he adds.
Beaten
The schools, which operated from the late 19th Century, were designed to assimilate the children into European-Canadian society by removing their language, religion and culture.
Many former students recall being beaten for speaking their native language.
The federal government has already acknowledged that physical and sexual abuse were rampant in the schools.
Although some schools operated until the 1990s, most were shut down in the 1970s.
Buffy Sainte-Marie, a native Canadian singer-songwriter who took part in the commission's opening ceremonies on Wednesday, says the shock is still deeply felt by indigenous Canadians.
"It is just totally heartbreaking," she said.
"The things that happened for generations of children, just removed from their homes. How can you say to a child, we're going to take away your parents, your sisters, your brothers your home - everything? You are going to be up for grabs for anyone who wants to do anything to you. And it was done."
The hearings opened in Winnipeg, Manitoba, with a traditional sacred fire. It is the first of seven events to be held across the country.
Manitoba Justice Murray Sinclair, the head of the commission, said the experiences of former students will no longer be relegated to the sidelines of Canadian history.
"They will tell you something they have never told anyone before," he said.
"It is the kind of truth that causes you to squirm."
He added: "The truth eventually will heal us all."