Plans to demolish Lafarge Cement works in Westbury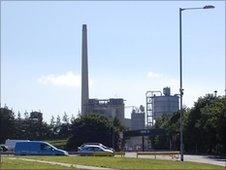 Plans are being made to decommission and demolish the Lafarge Cement works at Westbury in Wiltshire, the company has announced.
Cement manufacturing at the site was fully mothballed in February last year.
The company is now working with the council to consider future uses for both the site, and the chalk and clay quarries which supplied raw materials.
The distribution depot will remain at the site, and jobs there and in logistics will not be affected.
A company spokesman said the plant's clinker manufacturing capability (hard nodules of cement which can be ground into powder) would now end.
Lafarge plans to maintain the site's cement mills for grinding and blending cement products using clinker transported from its other UK cement works.
Erdogan Pekenc, the company's managing director, said: "We are aware that there has been some speculation about the works, so we are making an early announcement of our intentions."
The company will also consult with the Ministry of Defence which owns the land where the chalk quarry is located.
Mr Pekenc said: "It is clearly with much regret that clinker manufacturing at the site is drawn to a close.
"However, as a year has now passed in the site's new role as a depot, it is continuing to play an important role in our national supply network.
"The team running the depot is to be commended on its hard work which enabled the site to evolve from a works into a packing and distribution centre, against a backdrop of challenging times."
Cement manufacturing at the site was mothballed last year with the loss of 68 jobs because of the deterioration in the market and the tough cost conditions faced by the company.
Related Internet Links
The BBC is not responsible for the content of external sites.