Judicial review challenge to Hunterston coal facility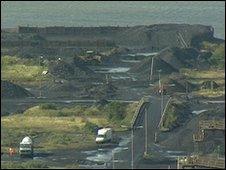 A man who is mounting a legal challenge against plans for a £3bn coal-fired power station in Ayrshire has received backing from a coalition of environmental groups.
Marco McGinty, from Saltcoats, is seeking a judicial review of proposals for the new facility at Hunterston.
He has argued that the development breaches national planning guidelines.
The RSPB and WWF Scotland are among the groups offering him financial assistance.
Plans for the plant were submitted to the Scottish government at the beginning of June.
Ayrshire Power wants to build a facility with experimental carbon capture and storage (CCS) technology.
The developers said it could provide energy to three million homes for decades, while capturing and storing damaging carbon emissions, if that technology can be proven.
Campaigners argue it will harm local wildlife and damage the environment.
Mr McGinty, who live minutes from where coal plant would be built, said: "This development proposal appeared in the National Planning Framework without meaningful attempt to consult local people.
"It completely denied us of the opportunity to express our views. This is entirely contrary to the claims of the new planning system to be more inclusive and enable local people to be more involved in decisions that shape communities.
"Because of this I feel I have no option but to pursue this challenge through the court."
The coalition of environmental groups has offered to provide some of the funds required to cover the significant costs associated with mounting a judicial review.
Aedan Smith, head of planning and development at RSPB Scotland, said: "It is critically important that this judicial review is seen through if we are to stop this damaging development from happening at Hunterston.
"This is because if a development is included as a National Development in the National Planning Framework, it means that the need for the development cannot be contested when an application is made.
"The only aspects of any such development that can then be challenged are matters such as detailed siting and design. The principle is indisputable."
He added: "For that reason, a broad range of organisations have come together in a bid to help fund some of the costs of bringing this legal challenge."
Juliet Swann, head of campaigns at Friends of the Earth Scotland added: "It is ridiculous that we are facing what would be Britain's first coal power station since the 1970s.
"This unethical carbon dinosaur has no place in Scotland's energy future."
A Scottish government spokesman said: "Ministers will consider all representations made to them before reaching any decision on the application for a multi-fuelled power station at Hunterston.
"Any application for a new multi-fuelled (coal and biomass) plant in Scotland will need to demonstrate carbon capture and storage (CCS) on a minimum of 300 megawatts of capacity from its first day of operation.
"That requirement to install CCS from day one is, alongside the UK, the strongest CCS policy in the EU."
Related Internet Links
The BBC is not responsible for the content of external sites.