PM autographs are sold at Gloucestershire auction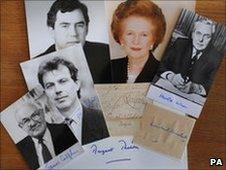 A collection of the autographs of 46 British prime ministers, stretching from 1721, has sold at auction.
The signatures of premiers including Sir Robert Walpole, regarded as Britain's first prime minister, and David Cameron fetched £1,700 earlier.
Margaret Thatcher, Winston Churchill, Tony Blair and Gordon Brown are also represented.
Many of the autographs, which sold in Gloucestershire, are clipped signatures from documents.
The collection, which was sold by Dominic Winter auctioneers in South Cerney, also includes letters and signed photographs.
It contains the autograph of Spencer Perceval, the first and only British prime minister to have been assassinated.
Auctioneer and autograph specialist Chris Albury said that of the 56 prime ministers that Britain has had, depending on which list people adhere to, only 10 autographs were missing.
He said an existing autograph hunter had bought the collection.
He added: "While Victorian autograph albums turn up fairly regularly and include cut signatures of royalty, nobility, clergy and politicians, this is still an unusually large collection of British prime minister autographs to come on the market as one lot.
"Some may question the attraction of collecting autographs of British prime ministers and why anyone would want signed portraits of Harold Wilson, Tony Blair or Gordon Brown.
"For many others, however, it allows a fascinating connection with 300 years of British history."
Related Internet Links
The BBC is not responsible for the content of external sites.