Polling station for Polish vote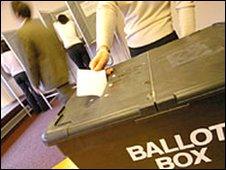 Polish citizens living in Northern Ireland will have an opportunity to vote in the country's presidential election.
The election was called after the death of president Lech Kaczynski in a plane crash in western Russia in April.
Polish citizens will have an opportunity to vote at a polling station in Belfast.
The presidential election will be held in Poland on 20 June.
Lech Kaczynski and 95 other senior Polish officials died on 10 April when their plane crashed in western Russia.
People will be able to cast their vote between 0060 BST and 2000 BST on 20 June at the polling station.
The station is based at the offices of the Chinese Welfare Association at Stranmillis Embankment in Belfast.
The polling station has been organised by an electoral committee appointed by the Polish Consulate in Edinburgh.
Eva Grosman, chair of the Polish Electoral Commission in Northern Ireland, said anyone wishing to vote would need to register either through the Polish Consulate in Edinburgh or by the Ministry of Foreign Affairs of Poland website.
"There's a large Polish community here in Northern Ireland, we've an established number of about 30,000," Ms Grosman said.
"However, just something in the region of 1,000 people did register and express their willingness to vote in the presidential elections.
"This number indicates that perhaps some people are more involved in Northern Irish politics since many more took part in elections here in Northern Ireland rather than the Polish ones."
Registration closes at midnight on Thursday.
To be eligible to vote, you need to have registered, to be over 18 and hold a Polish passport.
This facility has been offered before on two occasions, for last year's European Elections and four years ago for the Polish Parliamentary election.