Fewer locums in Scottish hospitals 'could save NHS £6m'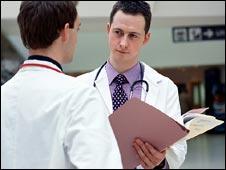 Scottish hospitals could save £6m a year by using fewer agency doctors, according to a report.
Audit Scotland said using locums, who can cost up to £104 an hour compared with £11 an hour for internal staff, could also compromise patient safety.
The report came after it emerged the number of temporary doctors had soared in the past decade from 3,700 to 8,200.
Health boards currently spend about £47m a year on recruiting medics for temporary staffing cover.
Much of the bill was for commission paid to private agencies, which charge an average of 23% and sometimes more than 30%.
In many cases, Audit Scotland found health boards were unclear about why they were hiring locum doctors and how long they were in post.
They said the NHS in Scotland could save almost 15% of the money it spent on temporary doctors through better planning.
Robert Black, Auditor General for Scotland, said: "With better information, boards could improve their workforce planning and use locum doctors more cost-effectively."
His report also said that the NHS had to get better at managing the potential risks to patient safety of using locum doctors.
This was particularly important for doctors hired through private agencies as they could be unknown to the board and unfamiliar with the hospital in which they were working.
He highlighted that there were no formal systems for sharing information about individual locum doctors between boards and no arrangements to ensure doctors were given an annual appraisal.
The Royal College of Nursing in Scotland said the report highlighted the need for the model of so-called 'nurse banks' to be applied to locum doctors.
Theresa Fyffe from the union said: "Nurse banks - a register of NHS recruited nurses who are paid national rates for use when there are staffing shortages - are not only helping to drive down health board costs, but also mean that health boards can be confident in the skills and ability of the nurses available to them.
"The Scottish government and health boards must drive forward with the implementation of 'doctor banks' to ensure that the problems uncovered in today's report are addressed and the money saved is reinvested in improving patient care."
Jackie Baillie, Labour's health spokeswoman, said: "Health Secretary Nicola Sturgeon needs to get a grip on the amount of money that the NHS is spending on locum doctors."
Scottish Tory health spokesman Murdo Fraser said: "This Audit Scotland report makes perfectly clear that we can find substantial efficiency savings without jeopardising our vital frontline services.
"Every penny found in efficiency savings is important as we strive to improve the health and wellbeing of NHS patients."
Ms Sturgeon admitted that spending on locum doctors had doubled in real terms from 1997.
She said: "I agree with the auditor general that we must look to make efficiency savings, but as the report makes clear the reduction in expenditure should go hand in hand with improved standards for patients.
"NHS National Procurement has a new contract for procuring agency medical staff to make the process easier and more cost-effective.
"We have also reminded NHS chief executives of the importance of following the existing code of practice on the employment of temporary medical staff in order to ensure patient safety and achieve best value for money."
Liberal Democrat health spokesman Ross Finnie said: "It is totally unacceptable that while NHS Boards across Scotland are slashing nursing numbers, the amount of money spent on locum doctors has doubled in the past 10 years."
Mr Finnie said NHS Boards were flouting rules on the use of non-contract agencies to employ many locums.
"The government must intervene and stop NHS Boards breaking these rules so that patient care is not compromised," he added.
Related Internet Links
The BBC is not responsible for the content of external sites.