Exhibition for £39m Mumbles pier revamp plans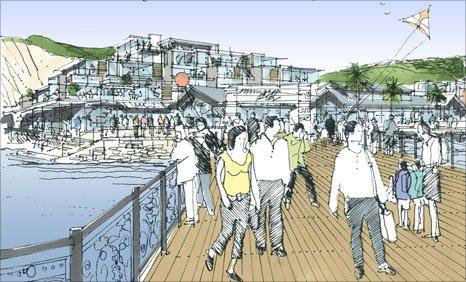 Plans for a hotel, apartments, boardwalks and family entertainment centre as part of a restoration project for Mumbles Pier are going on show.
The owners of the landmark are hoping for public support before submitting an application to Swansea council.
They say the £39m development would raise the £3m needed to restore the 112-year-old landmark.
An exhibition with an opportunity to ask questions will be held in the Pier Hotel ballroom on Friday and Saturday.
Owners Ameco Ltd said the scheme was also vital to RNLI proposals to build a modern lifeboat house capable of launching a new Tamar class vessel, due to become operational before 2015.
Managing director John Bollom said: "Over the years, we looked at how we could find a cost-effective method of rebuilding the pier.
"Sadly, privately owned piers do not qualify for heritage funding and the local authority has other restoration priorities such as Oystermouth Castle.
"We therefore had to find a privately-funded solution to generate £3m for replacement costs."
He said public consultation to date had resulted in over 95% positive responses to the principle of commercial and residential development.
"We are attempting to restore an iconic part of Swansea's heritage without a penny from the public purse and against the backdrop of a global economic recession that is still affecting investment," he added.
A detailed planning application is due to be submitted at the end of the month.
The exhibition will be open between 1030 and 1830 BST on 18 June and 0930 to 1330 BST on 19 June.
Related Internet Links
The BBC is not responsible for the content of external sites.