Two women in court over World Cup Dutch 'beer stunt'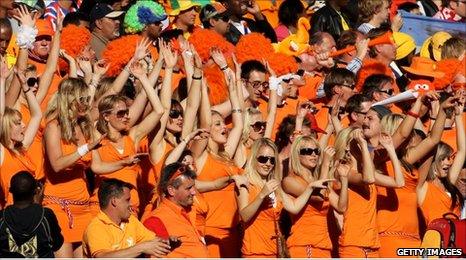 Two Dutch women have appeared in court in South Africa over an alleged "ambush marketing" stunt at a World Cup match. They were released on bail.
More than 30 women were ejected from the Johannesburg stadium on Monday during the match between Denmark and the Netherlands.
They were accused by Fifa of breaking strict rules on World Cup marketing.
They had all been wearing identical mini-dresses in Dutch orange, sold as part of a gift pack by a Dutch brewery.
The two women appeared in a Johannesburg court on Wednesday under the Contravention of Merchandise Marks Act. They were released on bail and ordered to return to court next Tuesday.
Dutch Foreign Minister Maxime Verhagen called the criminal charges "disproportionate".
"It is outrageous that the two women have a jail term hanging over their heads for wearing orange dresses in a football stadium," he said in a statement.
"If South Africa or Fifa wants to take a company to task for an illegal marketing action, they should start judicial procedures against the company and not against ordinary citizens walking around in orange dresses."
The case has already led to the sacking of English football commentator and former footballer Robbie Earle.
He was found to have passed on some of the tickets used by the women from his allocation for friends and family, in breach of Fifa rules, and was promptly sacked by employer ITV.
Fifa, the world footballing body, said it had launched legal action against the Dutch brewery, Bavaria, but not the women in question. It said it was up to the police how they should proceed.
With a large chunk of Fifa's revenue coming from selling World Cup marketing rights, it vigorously pursues anyone who tries to associate itself with the tournament, reports the BBC's Jonah Fisher from Johannesburg.
Earlier this year a local low-cost airline was forced to withdraw an advertising campaign that boasted it was the "Unofficial National Carrier of the You-Know-What".
Bavaria board member Peer Swinkels told Reuters news agency that Fifa's reaction was "ridiculous".
"Fifa does not have the monopoly on orange and people have the freedom to wear what they want," he said.
Related Internet Links
The BBC is not responsible for the content of external sites.