Spanish borrowing costs at new high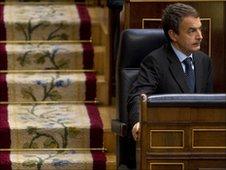 The Spanish government's cost of borrowing has hit a new record amid renewed concerns over the state of its economy and public finances.
The interest rate Spain is being asked to pay by investors is now 2.23 percentage points higher than that being demanded of Germany.
This widening gap in the bond market marks a drop in confidence in Spain's ability to repay its debts.
The Spanish cabinet has also approved unpopular changes to labour rules.
"It is a necessary labour reform," said Deputy Prime Minister Maria Teresa de la Vega. "One of the most important reforms of the last 20 years."
The changes, which include a cut in the level of severence pay, have prompted a call for a general strike in September.
Spain, which is emerging from a two-year long recession is now pursuing austerity measures. These include a 5% cut to public sector pay in an effort to bring down its borrowing and help restore its credibility among international lenders.
Its budget deficit is currently running at over 11% of GDP - way above the 3% limit imposed by the EU.
This week the Spanish government has also been forced to deny newspaper reports that it is in talks with the IMF over a Greek-style bail-out package to help it manage its debts.
The Spanish Prime Minister Jose Luis Rodriguez Zapatero is scheduled to meet IMF chief Dominique Strauss-Kahn on Friday, but Spanish officials say the talks are unconnected to the press speculation.
Investors remain concerned about the underlying strength of Spain's economy.
There are also worries that spending will hamper its recovery from recession, with its unemployment rate of 20% - the highest in the eurozone - a significant concern.
The government has approved long-awaited labour market reforms, which it says will encourage firms to hire more people, easing the jobs crisis.
But the plans have met with demonstrations from unions, who fear the changes will hurt workers' rights.
The reforms still have to be ratified in a parliamentary vote later this month.
Related Internet Links
The BBC is not responsible for the content of external sites.