Milton mother who killed baby detained indefinitely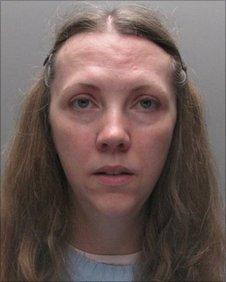 A mentally ill woman who killed her six-week-old daughter by sitting on her has been detained indefinitely.
Julia Lovemore, of The Rowans, Milton, near Cambridge, earlier admitted the manslaughter of baby Faith on the grounds of diminished responsibility.
Her daughter was declared dead on arrival at hospital on 17 June 2009.
The judge at Cambridge Crown Court said the 41-year-old was "profoundly mentally disordered and suffering from religious delusions at the time".
She was detained indefinitely under the Mental Health Act.
The court heard the mother-of-two had suffered mental health problems since the age of 26 and had recovered, but had a relapse after the birth of her first child in July 2006.
She and her husband were described a "religious fanatics" in court.
Julia Lovemore was visited by a community psychiatric nurse and a health visitor on the day of the killing.
When they arrived, they found her husband David Lovemore, 39, downstairs praying for his wife, and their older child was sitting on the stairs.
The 41-year-old and Faith were not seen by the visitors, who left to call for more help because they were disturbed by Mr Lovemore's behaviour, the court heard.
Prosecutor John Farmer said: "Unfortunately, neither of them sought to see the defendant and the best interpretation of events is that by then Faith was dead or dying because there would be no other reason why the husband of the defendant was so intensely engaged in prayer."
Rebecca Hughes, the community psychiatric nurse, told police Mr Lovemore was stamping his feet and saying: "Take the devil out of Julia."
She said: "I have never ever seen him like that before. It was as if he was in a trance.
"I felt the situation was unstable. I was very worried about David, I feared he may be becoming psychotic.
"I felt very unsettled, I would almost go as far as to say I was scared."
Mr Farmer told the court Mr Lovemore walked into a doctor's surgery shortly afterwards with his elder child who had been doused in white spirit, and Faith who was dead.
Authorities were called after Lovemore hit the child over the head with a hairbrush in November that year, the court heard.
She was reported to police by her husband who himself suffered from "profound mental health problems", Mr Farmer said.
He said the child was put on the "at risk" register and in February 2009, when Lovemore was found to be pregnant with Faith, she was seen by a consultant psychiatrist who said she was at high risk of relapse.
The court heard the couple, both "religious fanatics", insisted on having the birth at home without any medical attention at all.
Several meetings were held after Faith was born on 3 May last year, and Mr Farmer said there were no concerns "apart from the administration of extreme religious views".
A meeting was held early in June 2009 which determined both children should remain on the "at risk" register, the court heard.
Lovemore's husband was originally charged with allowing Faith's death, but the prosecution was abandoned in April.
'Parent's responsibility'
A serious case review into Faith's death was carried out by the Local Safeguarding Children's Board.
It said lessons learned included a need to improve the understanding of the nature of psychotic episodes and make sure it was shared and used in child protection processes.
The report added that maintaining key information about family history was essential in assessment of risk.
The link between the parents' religious beliefs and their mental health was only partially understood, and that monitoring plans between agencies must be clear about expectations on practitioners and followed, it added.
After sentencing, Det Supt Dan Vajzovic said: "This was a tragic case which saw a young life ended deliberately.
"Every child has the right to be protected and feel safe in their own home and it is a parent's responsibility to ensure this is the case."
Related Internet Links
The BBC is not responsible for the content of external sites.