How Ritz 'seller' tricked top investors out of £1m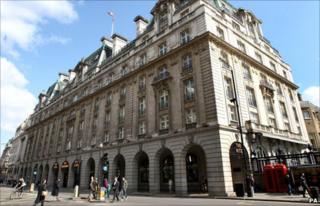 The scam to sell one of the world's most famous hotels appeared to be textbook - it was simple, well-targeted and ambitious, said prosecutors.
It took one cash-strapped man, bravado and a lot of greed.
Anthony Lee chose his targets well. He knew that in the competitive world of secretive multimillion pound deals, people are prepared to take breathtaking risks.
The opportunity he presented - a bargain price for London's five-star Ritz hotel and casino - seemed too good to be true yet too tempting to ignore, the court heard.
With the right patter, he tricked some of London's top property investors into believing he was in a position to sell the landmark property.
Nothing, however, could have been further from the truth.
'Straight-talking Yorkshireman'
It was about 10 years ago on a construction site in Runcorn in Cheshire that Tony Lee first met Patrick Dolan, an Irishman with a comic turn of phrase and a shock of white hair.
Mr Dolan - cleared of conspiracy to defraud - considered himself "an introducer". He told the court his first impressions of Lee were of a rich man who had worked hard all his life.
The pair soon began working together on a number of property deals - Mr Dolan, the man with contacts, and Lee, apparently the man with the money.
In truth, Lee was down on his luck after his haulage firm collapsed.
His rent was unpaid and he was borrowing from friends and family to pay off debts of £110,000. He also had a police caution for theft.
In court, Lee, a heavy, moustachioed 49-year-old, from Goole, East Yorkshire, painted himself as a "straight-talking Yorkshireman".
But prosecutors said the unemployed lorry driver had created one "great big lie".
Lee's scam was to convince investors that he had access to a contract to buy the Ritz, and access to its owners, the famously secretive billionaire Barclay brothers, who also own the Daily Telegraph newspaper.
To get people on board, Lee told them he could buy the hotel for £200m, then immediately sell it on for £250m - sharing the profits among those who set up the deal.
A string of movers and shakers in the property world fell for it.
Karen Maguire, a director of Property-Source.com which specialises in acquiring property for private clients, was offered a share of the profits if she could find someone to buy the hotel for £250m, well below what most considered it to be worth.
She told them that would be easy.
Sure enough, property dealer Terence Collins, of London Allied Holdings Limited, was interested.
He and Ms Maguire signed a confidentiality agreement, giving the deal the code-name Notting Hill.
Negotiations got under way, but every request from Mr Collins or Ms Maguire was met by false promises or delaying tactics.
Several months later, Lee told Ms Maguire he had another interested buyer and Mr Collins would need to pay £1m if he wanted to stay in the running.
When Mr Collins asked for some sort of security in case the deal fell through, Lee assured him his word was his bond.
A commercial gamble presented itself - should Mr Collins snap up the opportunity to buy London's best-known hotel and take a risk trusting Lee, whom he did not know well and whom he had not previously done business with?
He took the risk and called on Marcel Boekhoorn, a Dutch financial backer, who paid Lee £1m.
Mr Boekhoorn and some associates were taken on a tour of the hotel and discussed changes they might make to the hotel, the court heard.
It was then that the get-out came into play.
'Scapegoat'
Lee told the investors the Barclays now planned to include neighbouring buildings in the sale, meaning the price was now at £470m.
The investors pulled out but letters demanding their money back went unanswered.
Eventually, Mr Collins was accused by Mr Boekhoorn of breaching an exclusivity agreement and a number of civil claims followed.
Throughout the trial, Lee and Mr Dolan insisted there was no scam and the £1m was payment for other property deals they had worked on.
Lee was found guilty of obtaining a pecuniary advantage by deception.
Mr Dolan, of Tottenham, north London, was cleared of conspiracy to defraud.
Under cross-examination, Mr Dolan told jurors he had been "set up by rich people and used as a scapegoat" when the Ritz deal collapsed.
Retired Mr Dolan blew his share - 644,000 euros, then worth about £435,000 - on a new Mercedes, horse racing and paying off his mortgage, the court heard.
"I had a good time - a wise man told me there's no shops in the graveyard," Mr Dolan, now bankrupt, told jurors.
A third man, the solicitor Conn Farrell, of Aldershot, Hampshire, was also accused of conspiracy to defraud, but was cleared on Thursday.
Prosecutors said Mr Farrell became involved in the latter stages to lend the story an air of legitimacy and said he had led Mr Collins to believe he had the contracts for the Ritz sale.
But throughout the trial, he insisted he had only ever followed instructions, and had effectively been sacked once Lee had been paid the £1m deposit.
He told the court Lee called to say the price of the hotel had risen to £470m and Mr Collins could not find the funding.
At the time, Mr Farrell was a partner in the London solicitors firm of Farrell, Martin and Nee but was struck off the roll of solicitors last year for using clients' money for his own purposes, including paying school fees.
The money involved in the Ritz scam may seem like peanuts in the world of trophy properties.
But the scam still left a trail of red-faced property dealers and dented professional reputations in its wake.