£10m Oxford railway station upgrade under threat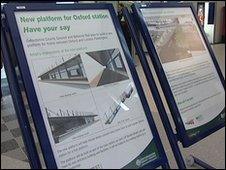 A £10m upgrade of Oxford train station is under threat.
The Department for Transport was set to contribute £5m but the project is under review as the new government looks to cut back on public spending.
The plans include building a new platform on the existing long-stay car park and a new footbridge with a covered walkway over Botley Road.
Network Rail, which would also provide a share of the money, had planned for the work to be completed by early 2012.
The plans are part of Oxfordshire County Council's Access to Oxford project, which was set up to make the city more accessible.
Leader Keith Mitchell said he hoped there was a way the work could still go ahead.
"It's really important, not just for Oxford but for the whole transport system around because it's a pivotal point in the system," he added.
The plans went on public display at Oxford Station in April and a planning application was being prepared for later this year.
On 24 May, the government announced that savings of £683m were to be made from the Department for Transport's 2010/11 budget.
Related Internet Links
The BBC is not responsible for the content of external sites.