Union calls for Boris Johnson talks to stop Tube strike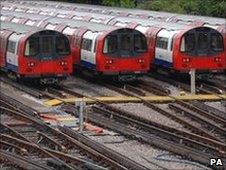 The Rail, Maritime and Transport (RMT) union has called on London Mayor Boris Johnson to hold "direct talks" to avert two 48-hour strikes by Tube staff.
Union members employed by maintenance firm Tube Lines plan to walk out on 23 June and 14 July in a dispute over jobs, pay and conditions.
Work is being taken over by Transport for London (TfL) at the end of June and the union claims jobs will be at risk.
The mayor's spokesman said he has "made it clear he will not meet with unions".
The planned strike would "severely" affect services on the Piccadilly, Northern and Jubilee Lines, the union warned.
Upgrade work and maintenance on the lines are currently done by contractor Tube Lines.
But following severe delays and a dispute over costs involved in the work, TfL brought all Tube Lines projects in-house in May.
RMT general secretary Bob Crow said Mr Johnson should "get out of his bunker" and hold talks, adding: "As the clock ticks down, the mayor cannot wash his hands of this issue and should show some leadership and agree to direct talks with RMT."
A spokesman for Mr Johnson said: "The RMT are well aware that the mayor has made it clear he will not meet with unions threatening strike action on the capital.
"Rather than threatening disruption the RMT should call off their strike action and hold talks with TfL once their purchase of Tube Lines has been completed."
A TfL spokesman said: "The RMT have time and again called for Tube Lines' work to come back under public control, and that is what we are working to achieve.
"Furthermore this is an existing dispute about pay and conditions and not about the proposed transfer of Tube Lines to TfL.
"We strongly urge RMT leadership to call off the threatened strike action and to enter proper dialogue with us after our acquisition of Tube Lines."
Related Internet Links
The BBC is not responsible for the content of external sites.