Stranded Pakistanis airlifted from Kyrgyzstan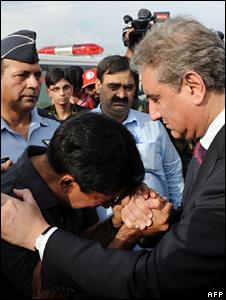 Some 250 Pakistanis who were stranded in violence-hit Kyrgyzstan have been airlifted home by Pakistan's air force.
Two flights returned the Pakistanis - mostly students - as well as the body of a student killed in the ethnic fighting, on Tuesday.
At least 170 people have died in the violence in Kyrgyzstan.
The United Nations estimates that more than 250,000 people have fled their homes in Kyrgyzstan to escape the bloodshed.
It has launched an emergency airlift of supplies to try to help ease the crisis.
Separately, a number of Indians, mostly students, who were stranded in the riot-hit cities of cities of Osh and Jalalabad have been "safely" moved to the Kyrgyz capital, Bishkek, according to a statement by the ministry of foreign affairs.
Earlier the ministry said 116 Indians were stranded in Kyrgyzstan due to the fighting. Efforts were being made to airlift those who wanted to return home by commercial or chartered planes, it said.
Some Indian students have complained they are being charged more than $300 for the return flight and they are struggling to find the money.
The planes carrying the Pakistanis were received by Foreign Minister Shah Mehmood Qureshi at Chaklala airbase near Islamabad. He said bringing back the stranded people was the government's "top priority".
The second of the planes also brought back the body of Pakistani student Ali Raza, who was killed in the rioting. His funeral took place on Wednesday morning.
His fellow students denied that Pakistanis had been targeted. Ali Raza's death was "just bad luck", one said.
Mr Qureshi said that the planes also carried relief supplies for people affected by the fighting in Kyrgyzstan.
Samia Solangi, one of the students who returned to her Karachi home, said she had been "trapped" with two cousins in Osh for three days with the electricity and gas cut off.
She said she saw the fighting on the streets and that women and children were not spared.
"The rioters had no mercy for children even. I saw one of them lift a four-year-old boy and fling him against a wall. They threw another teenage boy from his second floor apartment, and since he was still breathing they beat him some more," Ms Solangi told the BBC Urdu service.
There are reports that more Pakistanis are still stranded in Kyrgyzstan.
A resident of Punjab province told reporters that his son, a student in Bishkek, was still there.
"I spoke to him over the telephone on Monday. He told me there were 45 other Pakistani students in the university hostel where he lived.
"He said the hostel management wanted the students to vacate their rooms in view of the situation. I haven't had any contact with him since then," he told the Express TV channel.
Kyrgyzstan has become a popular destination for South Asian students, especially those studying medicine and engineering.
Costs are quite low, classes are available in English and the standard of education is considered to be good.
Related Internet Links
The BBC is not responsible for the content of external sites.