Calls for regional pay in public sector
By Martin Shankleman
Employment correspondent, BBC News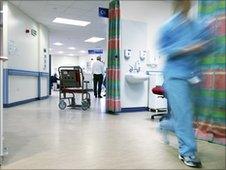 Regional pay should be introduced throughout the public sector to help recruitment and improve staff performance, according to a new report.
The Chartered Institute of Personnel and Development (CIPD) cites cases where national pay bargaining has damaged local services.
It says certain local authorities struggle to keep good social workers in areas where they are most needed.
The public sector union Unison said regional pay would create problems.
According to the CIPD's report, other evidence shows that NHS hospitals in areas with a tight labour market experience higher death rates and lower productivity.
The CIPD says one answer is for public sector workers to be paid more in certain regions of the UK, such as the south west or East Midlands, an approach which works well in the private sector.
The authors say banks, retailers, and restaurant chains set national pay levels but then allow regional variations to take into account recruitment rates and the local cost of living.
Retailers such as John Lewis adopt another approach, dividing the UK into five "pay zones".
The Prison Service has already adopted this system, and unions have the right to apply for sites to be moved into a higher zone.
The CIPD says shire councils could also introduce different pay for their teachers depending on whether they worked in a rural or urban area.
While ruling out "a complete free-for-all" on public sector pay, the authors claim greater flexibility in wage rates would improve work standards.
"Fundamentally, improving performance through pay will rely on good line management being able to recognise what a person has achieved, and what the market rate is for that job in that area," the report says.
However, a spokeswoman for the public sector union Unison attacked the plan.
"There is a rate for the job. Why should a nurse working in Wales be paid less than someone working in the West Midlands?," she said.
"Different standards of living are reflected in adjustments such as London weighting. Breaking up national pay bargaining would be extremely complicated, and would create its own problems, particularly where you have boundaries between two rates of pay."
Christine Blower, general secretary of the National Union of Teachers (NUT), was also critical.
"Regional pay proposals always run into problems over defining regional boundaries and funding the different areas," she said.
"Regional pay for teachers would simply move shortages from one part of the country to another, just like the short-lived initiatives intended to tackle subject shortages."
Related Internet Links
The BBC is not responsible for the content of external sites.