Natterjack toads return to Cumbria salt marsh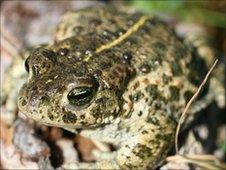 One of the UK's rarest - and most noisy - amphibians has returned to a Cumbrian salt marsh after a gap of more than a century.
Natterjack toad tadpoles were re-introduced to the RSPB's Campsfield Marsh nature reserve near Bowness on Solway three years ago.
They are now mature enough to breed, and strings of spawn have been found.
The population's decline has been blamed on the modification and drainage of its natural coastal habitat.
Over the past century natterjacks have disappeared from more than 75% of their former haunts and are now found only in about 50 places throughout England, South West Scotland and North Wales.
The males have the loudest call of native amphibians, and their croaking chorus can be heard more than a mile away.
RSPB warden Dave Blackledge said: "After the breeding season natterjacks can wander a mile or more from the breeding pools to find a place to hibernate.
"People living near the Cumbria coast should keep a look out in garages and sheds in the autumn for toads looking for somewhere to spend the winter."
Related Internet Links
The BBC is not responsible for the content of external sites.