Police take over World Cup security as stewards strike
By Alex Capstick
BBC News, Johannesburg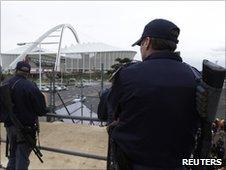 Police in South Africa have taken over security at a fourth football stadium following strikes by stewards at the World Cup.
Hundreds of stewards at the Ellis Park stadium in Johannesburg demonstrated on Tuesday, demanding that contractors increase their wages.
Police have also assumed security in stadiums in Durban, Cape Town and Port Elizabeth.
The pay dispute has now affected nearly half of the World Cup stadiums.
One thousand police officers have been drafted to Ellis Park after protests by security workers - who are employed by a private company - ahead of a match between Brazil and North Korea.
Demonstrations have also been held in Durban and Cape Town over the past few days.
Police had already been put in charge of security at the ground in Port Elizabeth before the tournament began.
The head of the local organising committee, Danny Jordan, said that he recognises the right of workers to strike, but that match day disruptions were unacceptable.
FIFA, the international football authority, has so far refused to comment.