Red deer spotted near Mellor homes is pet called Dancer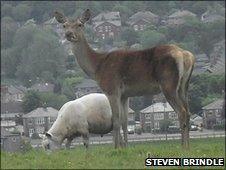 A red deer which left wildlife experts baffled when it was pictured grazing near homes in Lancashire has been revealed as a family pet.
Dancer, a four-year-old Doe, has lived with Louise Monk's family on their farm in Mellor since she was six-months-old.
But since the deaths of her companions - Rudolph and Dasher - she has been allowed out of her deer paddock to visit nearby farmland.
"She follows the sheep everywhere," Mrs Monk told the BBC.
Local resident Steven Brindle spotted Dancer next to some grazing sheep in a field less than three miles from Blackburn earlier in the week.
He dashed home, grabbed his camera and returned to take photographs of the deer, which was just metres away from nearby homes.
Red deer are more common to the Silverdale area of north Lancashire and wildlife experts suggested it may have strayed from its normal habitat.
But after Mr Brindle's photograph sparked widespread interest, Mrs Monks contacted the BBC to reveal she had actually only strayed from a nearby field.
"She is well known in the area, some of the farmers have sheep and she follows the sheep around everywhere," said Mrs Monk, who lives off Saccary Lane.
"We've brought her up since she was little and she now eats out of our hands, but she is still not keen on strangers.
"But she is a lot tamer compared to wild deer, obviously you cannot get near them."
Related Internet Links
The BBC is not responsible for the content of external sites.