Diabetes care 'still falling short'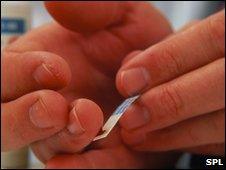 Many people with diabetes are still not receiving effective care despite the fact that more are regularly seeing health professionals, an audit shows.
More than 90% of diabetes patients in England and Wales are now in contact with healthcare teams at least once a year, the National Diabetes Audit says.
But it reveals many are not meeting blood sugar and blood pressure targets.
A third were not offered a urine test, a key means to diagnose diabetes-related kidney disease, it reports.
The prevalence of diabetes has risen 25% over the past six years to just over 4% of the population - or about 2m people, the audit shows.
About half of those with type 2 diabetes, the form of the condition associated with obesity, received all nine recommended care "processes" - including blood tests and weight management.
About a third of those with type 1 - the less common form of diabetes - received all nine.
Overall, half were not meeting blood pressure targets and more than a third had poor blood sugar control, which raises the risk of developing complications such as blindness, heart attacks, kidney failure and amputation.
The audit highlighted the fact that a third of patients were not being offered a urine test, which can identify early signs of diabetic kidney disease.
The number of people with diabetes needing dialysis or kidney transplant has almost doubled within six years.
Young people were the least likely to receive all nine care processes.
While there had been improvements from last year's audit, the clinical lead for the audit, Dr Bob Young, said there was "still much work to be done to best address a condition which is affecting more and more people every year".
Gavin Terry of Diabetes UK said there was "little good news from this latest audit".
"Well over two-thirds of people with type 1 diabetes and half of people with type 2 diabetes in England and Wales are missing out on checks that in real terms translate into saving a person's sight, preventing limb amputation and extending life expectancy through the prevention of kidney failure, stroke and heart disease."
Related Internet Links
The BBC is not responsible for the content of external sites.