'Hoax bomb' Ysgol y Creuddyn teacher at tribunal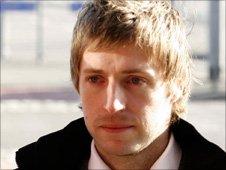 A teacher, who planted a fake bomb in a colleague's bag, has told a misconduct hearing that he acted "foolishly".
Geraint Lloyd Jones, 29, received a police caution after the incident at Ysgol Y Creuddyn secondary school, near Llandudno, Conwy in February 2008.
The General Teaching Council for Wales is considering if he should face official disciplinary measures.
His head teacher said the prank was stupid but Mr Jones was "conscientious" and had an unblemished record.
The hearing at Ewloe, Flintshire, could also ban Mr Jones from teaching.
It was told that Mr Jones' actions led to a full scale evacuation, involving pupils and staff, after the fake device was found in a bag belonging to fellow teacher and friend, Richard Williams.
Mr Williams, who also taught technology at the school, described how he discovered the 12" (30cm) 'bomb' when he placed his hand in the bag to retrieve a book for a pupil during a lesson.
"I heard a beep and saw a stopwatch - the timer had started," he told police in a statement.
"I would not be able to say if it was a fake or not."
Another teacher told the headmaster and the school was evacuated while police rushed to the scene.
The panel heard that the incident was treated so seriously as it followed a hoax bomb call to the school earlier in the day.
Giving evidence himself, Mr Jones admitted that it was this hoax call that had prompted him to devise the prank against his colleague.
But he insisted that the intention had been for his friend to open his bag in the office they shared during their lunch break.
"I had no intention to cause such trouble," he told the misconduct panel.
"I acted mindlessly and stupidly - I was playing a prank."
"It is extremely embarrassing and has caused great concern to me and my family."
Mr Jones said he offered his apologies to the school, its staff, pupils and governors, and also to the teaching panel.
The hearing was told that as soon as the incident came to light, he made a full confession to the school's head teacher and to police.
He was later given a formal caution by police, after the Crown Prosecution Service decided not to pursue Mr Jones through the courts.
He was also disciplined by his school, receiving a written warning.
However, the hearing was told that he continued to work at the school, was being supported by the head and staff, and had in fact been promoted to head of department since the incident.
The school's head teacher Dr Meirion Davies gave evidence in support of the teacher, describing him as "conscientious" and "hard-working".
"It was immature and stupid, but there were no nasty intentions," the head teacher told the panel.
"He is a very conscientious teacher, a very popular teacher, with his pupils and with his colleagues.
"His record, with this exception, is unblemished."