Cleveland civilian police jobs privatised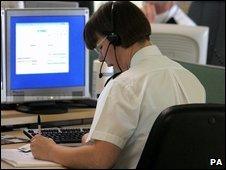 Plans to privatise hundreds of civilian jobs have been approved by Cleveland Police Authority.
Around 470 support staff, including workers from the 999 control centre, will be out-sourced to private firm Steria.
Current jobs will be protected under the 10-year contract which is expected to save the authority £50m.
Unison union has said the decision was disappointing and members will be consulted on possible further action.
The union launched a campaign against the plans last year. They claimed privatisation would undermine standards and staff morale.
Lynda Turnbull, the Police Authority branch secretary, said: "Unfortunately our campaign has not been taken into account. Neither has public opinion as we don't feel they were properly consulted.
"We are very disappointed. We will speak to our members and get their views on what they want us to do next. If they want us to take this further then we will."
Dave McLuckie, chairman of the Cleveland Police Authority, said: "We have not gone into this development lightly.
"From the very start we have scrutinised every aspect with the very clear view that we would only go ahead with a partnership if it could be shown to deliver a better service, generate significant savings and protect the interests of staff."
The financial savings made as a result of the £175m contract, will go towards maintaining and improving front-line police services.
Related Internet Links
The BBC is not responsible for the content of external sites.