Thanet offshore wind farm nearing completion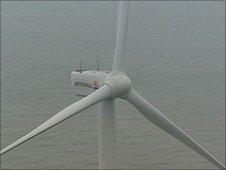 A Swedish energy giant is gearing up to launch the world's biggest wind farm off the Kent coast.
Vattenfall is putting the last few turbines into place, but the project has been delayed by weeks because of high winds and rough seas.
The wind farm is expected to generate enough electricity for 240,000 homes.
With more than 90 of the planned 100 wind turbines installed, Thanet Wind Farm supplied power to the National Grid for the first time on 16 May.
The project, built by Swedish energy giant Vattenfall, is expected to be fully operational in the autumn.
"This is the future," said project manager Ole Nielsen.
"This is sustainable energy, and I don't think there is any way round it.
"Offshore windmills are much to be preferred to onshore.
"We have 50% more production on these turbines out here and it is not disturbing anyone onshore."
The construction vessel Resolution is currently working on the final few of the 380ft (115m) tall turbines being built seven miles (12km) off Foreness Point in Thanet.
Construction started a year ago at the £780m wind farm, which can be seen from the coast on a clear day.
The company also owns the 30-turbine Kentish Flats wind farm, off Herne Bay, which was one of the UK's first such projects when it opened five years ago.
Mr Nielsen, who has worked on 10 projects, added that wind farms were getting bigger and bigger.
The London Array project in the Thames Estuary, for which energy firm E.ON is a major backer, will enter its offshore construction phase next year.
In all, up to 341 turbines will be installed over a four-year period.
Mr Nielsen said that in the future, offshore wind farms could have up to 1,000 turbines.
Related Internet Links
The BBC is not responsible for the content of external sites.