Ex-Halesowen chief jailed for £4.5m cigarette tax fraud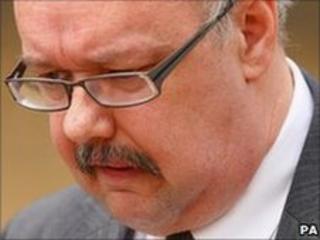 A former football club chief executive who admitted not paying duty on £4.5m worth of cigarettes has been jailed.
Guy Simpson, who used to be in charge of the West Midlands non-league team Halesowen Town, admitted tax evasion.
The 52-year-old, of Heath Charnock, Lancashire, was charged after he tried to smuggle 21 million fake Regal cigarettes through Southampton port in 2008.
Simpson was jailed at Southampton Crown Court for five-and-a-half years.
'Gym balls'
The cigarettes were on board a ship which arrived from China on 13 December, 2008.
Simpson, who changed his plea to guilty on the first day of his trial, was in debt at the time of the offence, the court heard.
Customs said it was the largest cigarette haul ever uncovered in Southampton.
The cigarettes, falsely branded as Regals, were boxed and wrapped in brown paper packages and crammed into two 40ft (12m) containers that arrived by cargo vessel from China.
Import documents suggested the consignment contained exercise gym balls, customs said.
The cigarettes were seized and then shredded and burnt at a power station to help power the national grid.