Profit rise for Belfast firm Andor Technology
By Eddie O'Gorman
BBC NI business reporter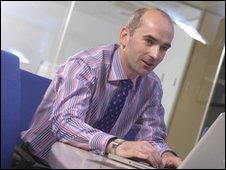 Belfast company Andor Technology has announced operating profits of £3.2m for the six months to the end of March.
This is an increase of 85 per cent on the same period last year.
Turnover was 24 per cent higher at £20m.
Andor, a spin-off company from Queen's University Belfast, employs around 260 people worldwide, making highly sophisticated cameras for use in scientific research.
Chief executive Conor Walsh said the company's markets had not been immune to the economic downturn, and the company had also faced strong competition on pricing.
Mr Walsh said: "We are trying to invest our way through this downturn."
He said that although Andor had acquired a company in Zurich, most of its growth was organic and was in existing markets, particularly in the Far East.
"In China, for example, we grew by 71 per cent over in the six month period to the end of March," he said.
"We expect sales for the full year to be worth more than £3m in the Chinese market."
He said that this was a relatively new market, although they opened an office in the Chinese capital Beijing more than two years ago.
"There is huge potential in that market for Andor's products," Mr Walsh said.
"The Asia-Pacific region currently accounts for around 25 per cent of our overall revenue, and we think that we could expand our sales significantly there over the next few years."