New group 'to improve' Gatwick, Heathrow and Stansted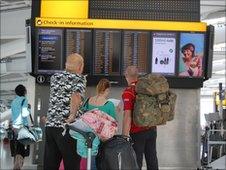 A new group has been set up by the government to improve passengers' experience at South East airports.
The group, to be chaired by Transport Minister Theresa Villiers, will attempt to reduce long queues and cut down the number of delayed flights.
It will initially focus on Heathrow, Gatwick and Stansted.
The coalition government has already ruled out further runways, scrapping Labour plans for a third runway at Heathrow and a second at Stansted.
"This marks the start of a new chapter in our aviation policy," said Transport Secretary Philip Hammond.
"I have a clear vision for our airports which sees greater reliability, shorter queues, less hassle and better services for passengers.
"It is absolutely crucial that we get this right as aviation is vital to our national economy."
The group will include airline, business and environmental representatives.
"We have been clear in our opposition to additional runways at Heathrow, Gatwick and Stansted, so the challenge we face now is making them better within existing runway capacity constraints," said Mr Hammond.
"This group will look at how to secure the successful future of aviation in the South East and Heathrow's hub status within the constraints of the existing runways.
"Our vision is for better not bigger airports, with new investment targeting improvements in reliability and passenger experience."