BBC receives 545 vuvuzela complaints over World Cup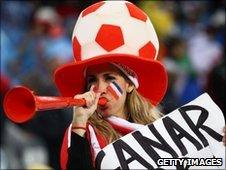 The BBC has received 545 complaints about the sound of vuvuzela horns during its World Cup coverage.
The corporation is considering showing coverage that cuts out the noise of vuvuzelas on its red button service.
On Monday, World Cup organisers ruled out a stadium ban on the plastic horns, which can reach 130 decibels, following complaints from players and fans.
Experts say it is impossible to cut out the horns without affecting commentary and crowd noise.
The BBC says it has already "taken steps to minimise the noise".
"If the vuvuzela continues to impact on audience enjoyment, we will look at what other options we can take to reduce the volume further," a spokeswoman said.
The BBC is considering cutting out some of the vuvuzela noise on the red button service but says a final decision has yet to be made.
On Monday, Trevor Cox, president of the Institute of Acoustics, told the BBC News website's Magazine that vuvuzelas were tuned to a similar frequency to speech tones.
If broadcasters tuned out it would dampen the commentators' voices, he said.
"It would sound really horrible to notch these out - if one coincides with the vowel sound e, you won't be able to hear the -es in the commentary. It would sound unnatural," he said.
Related Internet Links
The BBC is not responsible for the content of external sites.