Kenya MPs held for hate speech in constitution campaign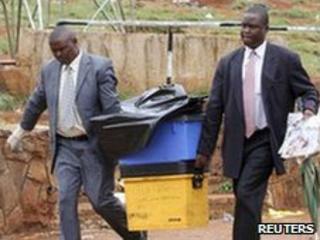 Police in Kenya have arrested an assistant minister and two MPs for hate speech in the campaign for a new constitution, after violence on Sunday.
Assistant Roads Minister Wilfred Machage was among six MPs accused of hate speech on Monday.
All six deny the charges.
Six people died on Sunday after a grenade attack at a prayer meeting in the capital, Nairobi, organised by the "No" campaign.
The three arrested MPs were interrogated for several hours at the Criminal Investigation Department headquarters and are expected to be charged in court on Wednesday.
During their campaign against the draft constitution, they were widely quoted as saying that some communities in the volatile Rift Valley could be evicted if it is passed in a referendum on 4 August.
Another of the six, Higher Education Minister William Ruto, appeared before the National Cohesion and Integration Commission (NCIC) on Tuesday.
Mr Ruto is alleged to have asked Muslims to reject the proposed constitution if they do not want a war with Christians.
The NCIC was set up after post-election violence in 2007 and 2008 left some 1,300 people dead and 300,000 homeless.
Some fear that the referendum campaign could lead to renewed violence.
The commission has also written to President Mwai Kibaki and Prime Minister Raila Odinga, asking for the suspension of all campaigning.
NCIC chairman Mzalendo Kibunjia said he wanted the politicians to be prosecuted quickly after the experience of 2008.
Attack investigation
But some "No" campaigners say the prosecutions are politically motivated, as most members of the government want a "Yes" vote.
Church leaders who organised Sunday's rally have also accused the government of being behind the grenade attack which led to a stampede.
Many Kenyans doubt the Church leaders' claim that the government could be behind the blasts, especially as it seems most people are already backing the "Yes" campaign, says the BBC's Will Ross in Nairobi.
Prime Minister Odinga on Monday said the attack was being investigated and called for an end to speculation about who is responsible until the inquiry is concluded.
Much of the post-election violence was over land disputes between rival ethnic groups and the draft constitution would set up a land commission to manage public and community land, which is opposed by some.
The violence ended when election rivals Mr Kibaki and Mr Odinga agreed to share power - and write a new constitution.
The coalition remains shaky but supporters of both men generally support the draft constitution.
The document provides for greater checks on presidential powers and more regional devolution.
It also recognises the UN human rights charter and creates a second parliamentary chamber - the senate.
Sunday's rally was organised by Christian groups opposed to a draft constitution because it retains recognition of existing Islamic courts and includes a clause on abortion.
The Islamic Kadhi courts - set up under British colonial rule - mainly deal with matters of marriage and inheritance for Kenya's Muslim minority.