Ted Baker lifted by sales boost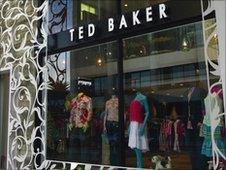 Clothing company Ted Baker has seen its latest revenues rise 18%, as sales climbed both in the UK and overseas.
In a trading update for the 19 weeks to 12 June, its retail sales were 20% higher than the same period in 2009, while its wholesale sales added 8%.
The UK firm also confirmed that it was continuing with its global expansion, and will open four new stores in the US later this year.
It is also due to launch outlets in Australia and Abu Dhabi.
"We have been encouraged by trading since the start of the financial year, and are pleased with the group's performance to date, especially in our overseas markets," said the company.
"Whilst we remain mindful of the uncertain economic environment, we believe we are well positioned to deal with the challenges ahead."
Related Internet Links
The BBC is not responsible for the content of external sites.