India boat accident toll rises to 62, officials say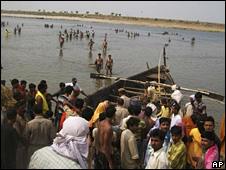 The death toll from Monday's boat accident in India's northern state of Uttar Pradesh has risen to 62 with the recovery of more bodies, officials say.
Police say 17 people swam to safety after the disaster on the River Ganges in Ballia district.
The ferry was on its way to a temple near Ballia and was carrying more than 70 people, well above its capacity of 30, police say.
Boats in India are often overloaded, which leads to frequent accidents.
Most of the passengers on the boat were women and children, local police official Shivendra Yadav told the Associated Press news agency.
"As the boat entered the midstream, it failed to take the weight of the people and collapsed," said Mr Yadav.
Among the bodies recovered, 38 were women and children, said a senior police official.
The boat was old and overcrowded, he added.
Related Internet Links
The BBC is not responsible for the content of external sites.