Leicester City Council orders 30 Shropshire hydro cars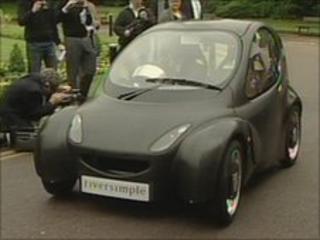 The first orders have been placed for a hydrogen powered car designed by a firm in Shropshire.
Leicester City Council has ordered 30 "Local Cars" from Riversimple to be leased to people in Leicester by 2012.
Riversimple said the prototype did the equivalent of 300 miles per gallon and had a maximum speed of 50 mph (80km/h).
It said unlike other hydrogen prototypes, its car had been made from scratch out of lightweight materials to make it energy efficient.
The car is not available to buy yet in the UK and can only be leased at a cost of £200 per month, plus 15p per mile travelled.
Riversimple, which is based in The Mill on the Green in Dinham, said 30 new jobs had been created by the council order and in the long term it hoped to employ up to 200 staff to produce 5,000 hydrogen-fuelled cars per year.