'Admin error' leaves MPs short changed
By Ross Hawkins
Political correspondent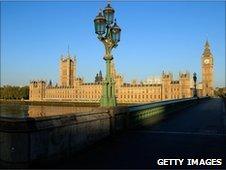 More than 400 MPs did not get their full pay in May, due to an error by the Independent Parliamentary Standards Authority, the BBC has learned.
Ipsa said 418 MPs who were re-elected to Parliament were underpaid by £119.63 each. New MPs were not affected.
The problem emerged when Ipsa took over administering the MPs' salaries from House of Commons authorities.
They were paid £5,358.54 rather than £5,478.17. The shortfall will be made up in their June pay packet.
A spokesman for Ipsa said: "This is a technical discrepancy which often happens in switching payroll systems.
"We've already put in place the means to make up the difference. We've paid every MP even when they haven't given us their bank details and in some cases that meant hand delivering cheques."
MPs - many of whom are angry with the handling of their expenses - will hold a debate about Ipsa on Wednesday.
The body began administering MPs' expenses for the first time after the general election in May, as part of efforts to restore public trust in the system following last year's expenses scandal.
MPs themselves voted to hand over administration of their expenses to an independent body but there have been a series of complaints since the new system began work.
Among concerns were changes which meant MPs were responsible for paying employers' pension contributions from their annual staffing allowance - which some feared would not be sufficient to cover salary and pension costs.
Labour MP Kevan Jones suggested new MPs had been left "in debt to several thousand pounds" because the online claims system did not work.
Commons leader Sir George Young has told MPs he was "seriously concerned" about complaints the new system was not working.
Ipsa has argued that the new rules are such a radical change on the old system implementing them was always going to be a big challenge for those involved.
Related Internet Links
The BBC is not responsible for the content of external sites.