India sending troops to end Manipur tribal blockade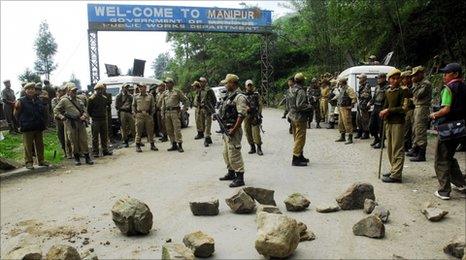 The Indian government is sending federal paramilitary troops to the north-eastern state of Manipur to lift a blockade by tribal groups.
The two-month blockade of main roads has led to severe shortages of food and medical supplies and soaring prices.
Naga tribal groups oppose a government decision preventing Naga separatist leader Thuingaleng Muivah from visiting his birthplace in the troubled state.
Naga rebels have been campaigning for decades for a separate homeland.
The BBC's Chris Morris in Delhi says Indian Prime Minister Manmohan Singh has finally met protest leaders to hear their concerns.
His involvement may be a last attempt to resolve things peacefully, our correspondent reports, before troops are instructed to lift the blockade - by force if necessary.
Home Secretary GK Pillai said the authorities would begin sending troops from Tuesday.
"We shall see to it that food supplies reach Manipur," he told the AFP news agency.
Related Internet Links
The BBC is not responsible for the content of external sites.