Guinea army arrests 'not linked to election'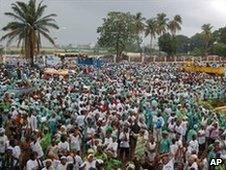 The arrest of several army officers in Guinea is not linked to elections due in two weeks' time, the army chief has said.
Col Nouhou Thiam said the detentions were over allegations of financial impropriety.
Several of those detained were close to the former military ruler, Capt Moussa Dadis Camara, who was shot in the head in an assassination attempt last year.
The army has promised to step down after the poll on 27 June.
The BBC's Alhassan Sillah in Conakry says the arrests had led to wild rumours circulating in the capital.
But Col Thiam now says the officers were picked up following the publication of an internal audit report on the armed forces that implicated them in the alleged misuse of funds running to tens of thousands of US dollars.
Col Thiam said the management of the funds had been "opaque".
"You know, when you're managing the funds of others, you have to keep and show accounts," he told French radio.
"In the Guinean army, we grew used to embezzlement, we have accused our elders of financial mismanagement, and now that transparency rules, we need to show accounts."
A junta has ruled Guinea since the death of long-time leader Lansana Conte in December 2008.
Interim junta leader General Sekouba Konate took over in December 2009 from Capt Camara, who is currently in voluntary exile in Burkina Faso.
Guinea is a country rich in mineral wealth, although its people are among the poorest in the world.
Related Internet Links
The BBC is not responsible for the content of external sites.