Masterpieces shown at Christie's ahead of sale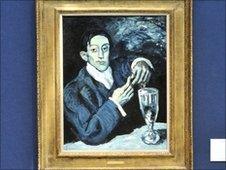 Masterpieces by artists including Van Gogh, Monet, Picasso and Matisse have gone on display in London ahead of the summer auction season.
The works - including one of Monet's famous water-lily paintings, Nympheas - are expected to collect millions of pounds at Christie's later this year.
A painting by Picasso is tipped to fetch up to £40m.
The exhibition, Juxtaposed: Masterpieces Through The Ages, is on at Christie's in London.
The Picasso work - Portrait of Angel Fernandez de Soto - was withdrawn from a sale four years ago after an ownership dispute.
Part of Andrew Lloyd Webber's collection, the dispute has now been settled and Christie's said the claimants had "withdrawn all claims to the painting".
The proceeds from the sale of the 1903 work will go to the Andrew Lloyd Webber Foundation, a charity promoting arts, culture and heritage.
The Monet, dating from 1906, is expected to fetch between £30m and £40m.
Other paintings to go on display include those by Rubens, Van Dyck and Warhol.
"Many of the works on view have been sourced from private collections... so this is a chance to capture what may be a rare glimpse of some historically significant works of art," said Jussi Pylkkanen, president of Christie's Europe.
The exhibition, featuring more than 80 paintings, runs from 14 to 17 June 2010.
Related Internet Links
The BBC is not responsible for the content of external sites.