Football sticker craze captures young and old in Brazil
By Camilo Rocha
Sao Paulo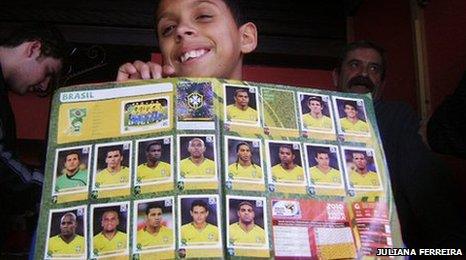 Treelog, a Sao Paulo-based distribution company, made national news in Brazil twice over the past two months when its premises were robbed.
But what made the robberies stand out was that the thieves left behind money and equipment. Their target was boxes of World Cup stickers.
In April, 135,000 stickers were stolen. Three people were arrested but in May Treelog was targeted again: this time 200,000 stickers were stolen.
So why are criminals going after boxes of adhesive photographs of footballers, teams, stadiums and badges that collectors then insert into a numbered slot in an album?
Football albums have always been popular, mostly among boys up to their teens. But this year, with the 2010 World Cup, sticker-mania has exploded and has no barriers of gender or age.
"We have sold in 40 days what took four months to sell in 2006," said Marcio Borges, marketing director at Panini Brazil, the company that manufactures the albums and stickers.
He believes Brazil will be the best-selling country for the official Fifa album this year. In 2006, he says, the country came second after then-host Germany.
"It has been much more intense in 2010. We were surprised with how well it has been going and couldn't meet demand at some stages. There were shortages of stickers," said Mr Borges.
Revenue from newsagents selling stickers in Sao Paulo is up 40%, according to a local retailers' trade association.
Newsagents are obviously upbeat.
"Sales of magazines and papers have been falling. The stickers help boost my business," said Ronaldo Faria, who has a news stand in the Pompeia district of Sao Paulo.
"Some days nearly all I sell are stickers."
In Jacarei, a town 60km from Sao Paulo, newsagent Cesar Oliveira believes his sales have gone up 150% thanks to the sticker craze.
Mr Oliveira and Mr Faria have turned their businesses into "swapping points" to help sales.
On Sundays, they promote meetings near their businesses where dozens of collectors come to exchange stickers or buy the more difficult ones from unofficial salesmen.
A new category of "sticker dealers" has emerged: black market operators who can supply any sticker you might need.
Where a packet of fives stickers sells for R$ 0.75 (roughly 40c/30p), a single rare figure can reach six times that amount.
Mr Faria says that Panini had a clever strategy with the initial promotion of the album.
"They gave free albums and stickers with newspapers and got people hooked."
Back at Panini, Mr Borges believes the company's investment in social websites to connect collectors has also been important in spreading the craze.
The internet is certainly a helpful tool: you swap and buy missing stickers from official sources as well as from the countless communities and forums.
But what makes the sticker craze so interesting is that it is also an offline phenomenon.
'I don't like using the internet for this," said 16-year-old Alisson Dutra, from Jacarei.
"It's cold and distant. I find much more pleasure in doing this in person. You meet people from all ages here," he says, pointing to the busy square around us.
Paulo Ressurreicao, 45, who works in advertising, and his son Gabriel, 14, a student, are regulars at this kind of event.
"We swap a lot, so we don't spend much money," says Paulo.
"It's a nice challenge. And you get to meet people, I've made loads of new friends at school because of the stickers," says Gabriel.
But some youngsters complain about what they say is unfair competition from adults.
Where children have to scrape pocket money together to buy a couple of packets, some adults don't hesitate in spending far more.
"An elderly lady came here and spent R$150 in stickers one day," said Mr Faria - that is just under a third of the national monthly minimum wage.
There doesn't seem to be any hint of embarrassment from adults engaged in what is seen as a pastime for younger people.
Writer Marcelo Amaro, 33, who collects the stickers together with his journalist wife Daniela, gets annoyed at critics.
"This kind of comment usually comes from people who don't like football," he said.
Marcelo reckons he knows "at least" 100 people who are also collecting the album, including relatives and work colleagues.
Fabio Tramontina is a 60-year-old businessman who says he has made many new friends, "of all ages", thanks to the stickers.
"There is also a nostalgic element for us older people," he said, adding that he regularly meets nine other friends to swap stickers.
Amid fear of crime, the growth of gated communities, and an increasing obsession with virtual communication, the sticker-album craze seems to be providing some welcome social glue to people longing for a bit of old-fashioned hanging out - and swapping.
Related Internet Links
The BBC is not responsible for the content of external sites.