Henry Purcell's aria named UK's favourite in BBC poll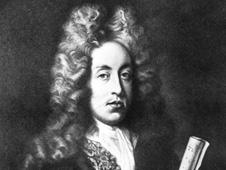 Henry Purcell's When I am laid in Earth, from the opera Dido and Aeneas, has been named the nation's favourite aria.
Listeners to Rob Cowan's breakfast show on Radio 3 voted for their top aria as part of the BBC's opera season.
It beat popular pieces by Mozart, Wagner and Puccini, among others.
"It's touching that it's an English rather than an Italian bel canto aria that's won the most support," said co-presenter Sara Mohr-Pietsch.
Over the past month, listeners have been invited to email the station with their favourite arias, before an online vote was used to choose the winner. A tie resulted in the Top 10 becoming 11.
Dido and Aeneas is Purcell's only fully sung stage work and is one of the earliest English operas in the regular repertoire.
The aria comes at the end of the opera as Dido, Queen of Carthage, having been abandoned by the Trojan Prince Aeneas, flings herself on a funeral pyre.
"Purcell's music gives us access to the heart of a proud queen in the final minutes of her life, one of those rare and beautiful moments when every listener is on the edge of their seat," Mohr-Pietsch added.
Presenter Cowan said he was "not in the least surprised" at the result.
"As operatic arias go, this has to be among the greatest of all - a grief-laden outpouring that's up there with the best of Puccini or Wagner. And what a melody," he said.
Radio 3 controller Roger Wright said: "It is pleasing to see the way in which they have engaged with this fun search for the favourite aria and continue to enjoy the BBC's celebration of opera."