Parliament Square eviction case a 'collision of rights'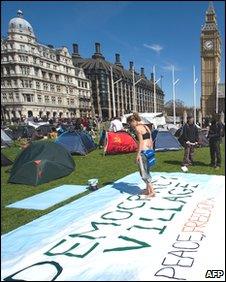 The High Court has heard the Mayor of London's attempt to evict Parliament Square protesters is a "collision of rights".
Over the past weeks tents and flags have transformed the green into what demonstrators call Democracy Village.
Mayor Boris Johnson said he wants to "safeguard the rights of the majority to use and enjoy Parliament Square".
Protesters claims only the Queen has the right to bring such proceedings in relation to the central London square.
Mr Johnson said he has a right, as the Greater London Authority owns the green space.
The mayor's counsel, Ashley Underwood QC, told Mr Justice Griffith Williams: "This is a case that deals with a collision of the rights of the minority to exercise free speech and assembly and protest in a public place and of the rights of others to use that same public place for that and other uses."
He added: "In bringing this claim, the mayor does not seek to minimise the vital importance of the right to free speech and assembly and protest, especially in such a significant location and in such a vibrant city as this.
"Rather, what he seeks to achieve is to safeguard the rights of the majority to use and enjoy Parliament Square Gardens and bid to prevent the abrogation to themselves of such a place by a small minority, however well-intentioned."
The judge added that the genuineness of the beliefs of each of the defendants was not in issue and it was not for the court to reach a view about them.
"Those are not legal matters - they are political matters - and while I have read with interest such witness statements as have been provided, any part of the witness statement which merely rehearses the genuine beliefs of the witness is of no materiality to the issues which I have to determine, which fall within a very narrow compass indeed."
Related Internet Links
The BBC is not responsible for the content of external sites.