Former police officer jailed for sex chats with girl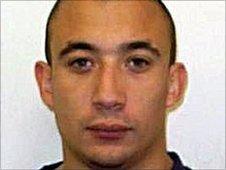 A former police officer has been jailed for 30 months after taking part in indecent chats on the internet with a 13-year-old girl.
Russell West, 26, admitted last month that he had sent sexual messages to the Clackmannanshire schoolgirl.
West, an officer for Essex Police at the time, was traced after she went missing and her computer was checked by specialist detectives.
He has been placed on the sex offenders register for life.
Temporary judge Michael O'Grady QC said: "You pled guilty to indecent behaviour over a fairly lengthy period towards a young and self-evidently vulnerable girl."
The judge said he had concerns about the lengths to which the former police officer had gone to cover his tracks.
The court heard in May that West had used a false name to register with an online chat service and used a pay-as-you-go dongle to connect to the internet.
Judge O'Grady said he accepted that West had made no attempt to meet up with the schoolgirl.
But he added it was clear that the first offender, who resigned from Essex Police as soon as the crime was detected, still posed a risk.
The court heard that West would have been jailed for three years, but for his guilty plea.
West will be supervised for three years following his release and was warned he could be returned to custody during that period if he failed to comply with release conditions.
Advocate depute Derek Ogg QC said the offence came to light after a search of the missing girl's computer revealed a large number of internet contacts - some of a serious nature.
He said: "There is no suggestion that West's conversation was anything other than fantasy chat. There were no practical attempts to seek a meeting."
West targeted the girl after meeting her on an internet chatroom where he used the name "Fit Essex Guy". In messages the girl said she was 13 and at school.
The investigation into West was part of a major inquiry, codenamed Operation Defender, into internet sex offences against children.
Defence counsel Tom Ross said: "Apart from the commission of this offence he has led a wholly law-abiding existence and contributed to the community through his service in the police force."
West has been held in prison on remand since October last year and Mr Ross said it had been "a very uncomfortable time for him" because he was an inmate charged with a sexual offence against a child and a police officer.
He added: "There has been the daily possibility of attack."
Related Internet Links
The BBC is not responsible for the content of external sites.