Greek government bonds downgraded by Moody's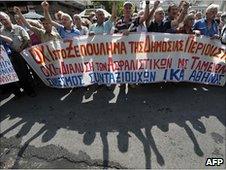 Greek government bonds have been downgraded four notches to "junk" status by Moody's credit rating agency.
The agency said there was still "considerable uncertainty" surrounding the impact of measures introduced to cut the country's high budget deficit.
Greece is looking to slash its deficit from 14% of GDP to 3% by 2014.
But Moody's said that the outlook on Greece's rating is now stable, and that it would likely remain unchanged over the next 12 to 18 months.
Despite the downgrade from A3 to Ba1, the agency said the risk of Greece defaulting on its debt was low.
In April, Standard & Poor's, one the three main international credit rating agencies alongside Moody's and Fitch, also downgraded Greek government debt to junk status.
Earlier, international auditors began sifting through Greece's finances to assess progress on its draconian austerity measures.
The auditors will spend a week assessing progress, talking to government ministers, officials and independent experts in the country.
The European Union (EU) and International Monetary Fund (IMF) experts were sent to Greece under the terms of an aid package to save Greece from defaulting on its debts.
Last month, the EU, IMF and European Central Bank pledged 110bn euros ($134bn; £91bn) to help avert financial collapse in Greece.
The money was conditional on Greece making substantial cuts to its deficit.
On Monday, Greek finance minister George Papaconstantinou said that the recovery plan was already ahead of schedule.
According to official figures, the deficit for January to May was 8.9bn euros compared with 14.6bn euros over the same period in 2009.
Under the first phase of its recovery plan, Greece must get the deficit down to 8.1% by the end of this year.
Last week, ECB president Jean-Claude Trichet praised the progress Greece had made towards reducing the deficit.
Meanwhile, the Bank of Italy said on Monday that the country's public debt reached a record 1.8 trillion euros in April.
Last year, Italy's public debt - the sum of all borrowing - reached 115.8% of GDP, and is predicted to rise to 118.4% this year.
Prime Minister Silvio Berlusconi has announced an austerity package designed to bring the deficit down from the current 5.3% to 2.7% by 2012.
The announcement underlines how sovereign debt worries have spread well beyond Greece to other European countries.
Also on Monday, the government in heavily indebted Spain was in talks with opposition parties to try to win support for radical changes to the employment laws.
Spain, with a jobless rate approaching 20%, faces a wave of strikes.
Last month, Jose Luis Rodriguez Zapatero's government narrowly avoided a crisis when the legislature passed a 15bn-euro deficit reduction programme by just one vote.
Related Internet Links
The BBC is not responsible for the content of external sites.