Nine face Aberdeen Airport protest trial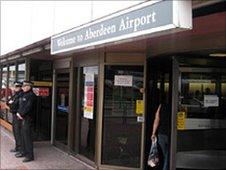 Nine people who allegedly forced Aberdeen Airport to close down during a protest have gone on trial.
It follows an incident at the airport involving a group called Plane Stupid in March 2009.
The nine face charges including breach of the peace and vandalism.
About 40 climate change protesters gathered outside Aberdeen Sheriff Court before the start of the trial, which is expected to last several days.
The accused are said to have cut a security fence and locked themselves to fencing they erected on an aircraft taxiing area, preventing take-offs or landings.
The nine - eight from Scotland and one from England - are also charged with climbing on to the roof of the terminal building and displaying a banner.
Airport security officer Claire Sandison, 26, told the trial she spotted a group of people piecing together a square of metal fencing when on patrol in the early hours of 3 March.
Under cross examination by defence lawyer George Gebbie QC, Ms Sandison said when she carried out her patrol at 0100 GMT the airport was open to emergency flights only, and there were no such flights that morning.
The witness agreed with Mr Gebbie when he said: "Effectively, Aberdeen Airport was shut at that time."
She also agreed the site of the fencing, the holding point on the taxiway, was a "safe area for vehicles to taxi on".
He said: "When you are here, you don't present any danger to what is on the runway? It is, by definition, a safe area?"
Ms Sandison agreed, but later said it was a safe area "when there's permission".
She agreed that air traffic control gives clearance for people to use the taxiway "to stop dangerous situations developing", and said the people she saw had not been given permission.
The defendants are Mark Andrews, 26, from Edinburgh; William Boggia, 44, from Ballater, Aberdeenshire; Matilda Gifford, 25, Daniel Glass, 26, Emilia Karwowska, 20, Jonathan Agnew, 24, and Josephine Hanson, 25, all from Glasgow; James Kerr, 35, from Paisley, Renfrewshire; and Katherine Mackay, 21, from Shipley, West Yorkshire.
All nine deny the charges against them.
The trial continues on Tuesday.
Related Internet Links
The BBC is not responsible for the content of external sites.