Dana Petroleum confirms new oil discoveries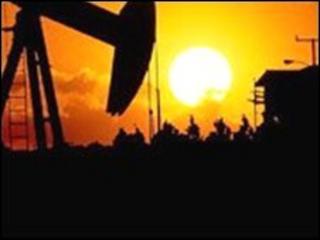 The Aberdeen-based oil explorer Dana Petroleum has announced the discovery of two onshore oil fields in Egypt.
The company said it had found "good quality" oil-bearing sands while drilling nearly 7,500ft (2,286m) in the Lorcan oil field in North Zeit Bay.
Oil was also found in the East Beni Suef concession in the Upper Bahariya formation.
The firm said the discoveries had the potential to produce more than 5,000 barrels of oil a day.
The find comes after Dana revealed it had "disappointing" results while drilling at two other locations.
Offshore drilling at the Bamboo site in Egypt was marred after the company encountered water-bearing sands.
The firm also said that drilling at the Monkwell well in the North Sea indicated a gas discovery was "too small to be economic".
However, the Lorcan field discovery has so far been delivering up to 4,714 barrels of oil a day for the firm.
'Recent exploration'
Early data from the East Beni Suef concession site has indicated the well could be capable of producing about 600 barrels a day.
Chief executive, Tom Cross said the discovery had exceeded Dana's expectations.
"The very strong flow rates, combined with its onshore location and proximity to Dana's East Zeit oil production base, make Lorcan an extremely attractive development opportunity," he said.
"Dana will seek to bring this oil on stream at the earliest opportunity."
He added: "Although the exploration outcomes at Bamboo and Monkwell are disappointing, they do follow Dana's recent exploration successes at Papyrus, in the offshore Nile Delta and at Platypus, in the UK Southern North Sea, both of which have demonstrated robust economic gas developments," added Mr Cross.
Earlier this month Dana announced it had agreed to buy Dutch oil firm Petro Canada Netherlands for £270m.