Leaking river lock near Bedford closed for repairs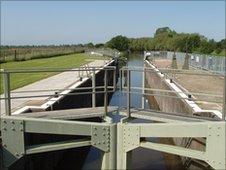 A faulty lock on the Great Ouse river in Bedfordshire has been closed for emergency repairs.
The Environment Agency has closed Castle Mill Lock near Bedford until 2 July to allow the leaking lock to be repaired.
The lock is being drained to enable the works to be carried out, and an inspection of the structure will be carried out.
River users will experience disruption, the Environment Agency said.
There is no way around the lock closure, nor any diversions, so boats can only go up as far as the lock and then will have to turn around.
Nathan Arnold, waterways team leader for the Great Ouse and Stour, said: "We have recently had a spate of boats getting stuck when filling and emptying the lock as a result of leakage.
"We have tried to fix the leak using divers but the repair was only effective for a few weeks and the problem has recurred.
"The Environment Agency is committed to keeping its navigations open and in a safe working order.
"We understand that this closure will cause disruption during the height of the boating season, but this work is vital to ensure the lock will function correctly and allow the passage of boats along this navigation and to the Bedford River Festival."
The Environment Agency talked with river user groups including the Great Ouse Boating Association before making the final decision to close the lock.
Related Internet Links
The BBC is not responsible for the content of external sites.