Businessman saves Canterbury's Westgate Tower Museum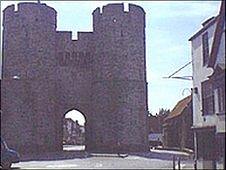 A Kent landmark threatened with closure has been saved by a local businessman.
Charles Lambie has donated £250,000 to keep Canterbury's Westgate Tower Museum open, the largest medieval city gateway in the UK.
The city council, which owns the ancient monument, has now agreed to lease it to Mr Lambie, who hopes to boost the number of visitors.
He described the monument as "Canterbury's second most iconic building after the cathedral".
"If ever I have visitors coming to Canterbury I always start by taking them to the Westgate Towers, go up those wonderful staircases, and you can look over the whole city. You can see Canterbury in minutes."
Mr Lambie said he bought the adjoining building, which is an old jail, several years before.
"So we've been talking about combining the buildings for some time," he said.
The investment would be used to improve access to the museum and jail and provide a cafe, in the hope that visitor numbers would then be boosted enough to stop the attraction from losing any more money, added Mr Lambie.
Related Internet Links
The BBC is not responsible for the content of external sites.