Stabbed East Ham MP Stephen Timms reviews his security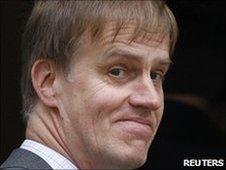 An MP who was stabbed while holding a public surgery has spoken about the incident for the first time.
Stephen Timms, Labour MP for East Ham, east London, and a former minister, was attacked in May. He was in hospital for five days with abdominal injuries.
Mr Timms told BBC London he was now reviewing his security arrangements. He said: "We're looking at the layout of the places I hold surgeries in.
"Are there exits I can head for quickly if need be?"
But Mr Timms insisted the incident would not prevent him from meeting the public.
He said: "I was extremely pleased to have the biggest vote in the whole country.
"That's partly because I'm readily available - and I intend to continue to be, so I can do my job properly."
Mr Timms is now recovering well from the attack.
He said: "I am having to take things quite easy still. It'll be a while before I am back up to speed.
"But I am on the mend and I've been very heartened by all the messages of support and good wishes I've received."
Roshonara Choudhary, 21, of East Ham, has been charged with attempted murder and two counts of possession of an offensive weapon.
Related Internet Links
The BBC is not responsible for the content of external sites.