Majestic toasts big rise in profits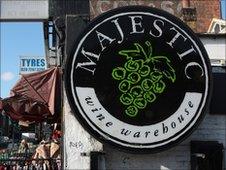 Majestic Wine has seen its annual profits more than double, lifted by its takeover of Lay & Wheeler and a change to its minimum purchase rules.
The wine retailer made a pre-tax profit of £16m in the 12 months to 29 March, up from £7.4m a year earlier.
Like-for-like sales, which pulls out new store openings, and the purchase of Lay & Wheeler in March of last year, were up 8.4%.
Since last year, its customers can buy a minimum of six bottles, down from 12.
Majestic's total sales for the year were up 16% to £233.2m.
It added that the move to a six-bottle minimum purchase had seen the number of its customers rise by 54,000 to 472,000 across its 153 outlets.
The average amount spent on a bottle of still wine also increased, up to £6.56 from £6.35 in 2009.
Majestic also announced that chairman Simon Burke would be standing down in August after 10 years on the board.
He will be replaced by fellow director Phil Wrigley.
"We are very encouraged by our ability to attract new customers which will allow us to continue to grow our market share," said Majestic chief executive Steve Lewis.
"While the UK economic outlook remains uncertain, we believe that Majestic is well positioned for future growth."
Despite the UK being in recession until the last three months of 2009, Majestic saw a big rise in sales of expensive wines in the past financial year.
Its sales of wines costing £20 or more a bottle increased by 23%, and Majestic said it would now stock more expensive wines across all of its stores over the next two years.
The company plans to open a further 12 outlets during this financial year, with an eventual aim of expanding the group to 250 shops.
Related Internet Links
The BBC is not responsible for the content of external sites.