Cumbria shootings: Funeral for killer's twin brother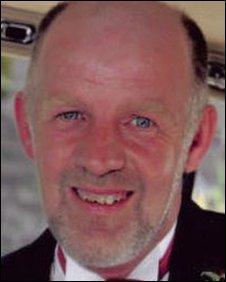 The funeral of the twin brother of Derrick Bird, who killed 12 people and wounded 11 during a gun rampage in west Cumbria, has taken place.
David Bird, 52, the first of his brother's victims, is believed to have been shot in bed at his home in Lamplugh on 2 June.
More than 500 mourners gathered at St Michael's Church in the village just before 1000 BST.
A tribute from his three children described him as "one in a billion".
Among the mourners were his estranged wife Susan, their daughters Rachel, 28, Tracey, 26, and Katie, 19, and the twins' older brother Brian Bird.
Derrick Bird's elder son Graeme, 28, also attended.
David Bird's children, Rachel, 28, Tracey, 26, and Katie, 19, penned a tribute which was read to the congregation by the Rev Jim Marshall.
"Dad, where do we start?" they said.
"Not only were you one in a million, but more like one in a billion. No-one will ever know a character quite like you again.
"You were quirky, hilarious, cheeky and downright cute. You brought laughter everywhere you went and always put a smile on everyone's faces."
David Bird, who ran a garage business and owned the High Trees Farm where he was killed, was described as a "loving husband and doting dad and granddad".
The family has denied reports of a feud between the brothers over their father's will, but a relative said the brothers were not particularly close.
The funeral of another victim, 64-year-old Mike Pike from Seascale, has taken place at Distington Crematorium in Workington.
He was shot while riding his bicycle in Seascale.
He originally came from Garston in Liverpool where he worked as a shipbuilder. He later worked at Sellafield nuclear plant for more than 30 years, until his retirement in 2002.
Mr Pike's funeral was a a private service.
His family said in a statement: "Today we have held a celebration of Mike Pike's life and we have chosen to focus on the happy times and the achievements of his life.
"We are grateful for the support we have received from friends, neighbours and well-wishers and for the donations made to the Cumbria Air Ambulance service."
Jan Dunckley, a celebrant of the British Humanist Association, led the service at Distington on Monday afternoon.
Ms Dunckley, who had also led his mother's service last October, started by saying: "We all know how Mike died but not why and his family are content to leave those issues behind, particularly today when we are celebrating his life, loves and achievements."
At the service his wife, Sheena said she had met him at a club when she was 17 and he was 18.
She said: "'I've got a motorbike you know' was one of the first things he told me as he escorted me home. So that was that - love and 42 years of very happy marriage."
She said he had been having a happy retirement and added: "I take great comfort from his swift but too early end and celebrate a life lived to the full.
"He was clever, loquacious, loving man. A loyal and loving husband father and grandfather. He was interested in so many things, engineering, the arts, politics and world affairs.
"Thank you Mike for all you gave us; you were very loved and will be very missed."
His son, Jason, said he remembered his father working hard to provide for the family. He said: "He valued his free time and wanted as much as possible to spend it with us."
He added: "Thanks to him I have the experience to walk with confidence in the mountains because they have become so familiar.
"At times we walked in silence, each enjoying the views or our own thoughts, and at times we had long conversations which moved from topic to related topic, until we hardly remembered the beginning, especially when he was studying philosophy and psychology which fascinated me too. "
Related Internet Links
The BBC is not responsible for the content of external sites.