Fire guts Plymouth flat and damages others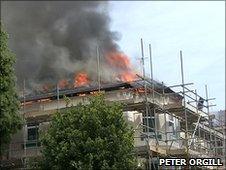 A fire has gutted a top-floor Plymouth flat and damaged at least six others in the same street.
The fire, thought to have been started in the kitchen of a flat in Meadfoot Terrace, quickly spread along the roof to other properties in the block.
Seventy firefighters tackled the blaze which started at about 1430 BST and took two hours to bring under control.
No-one was seriously injured in the fire.
Firefighters said the wind had helped spread the fire along the roof.
Group manager Paul Ray, incident commander, said: "Once the fire took hold it spread very quickly.
"It was so quick that the fire had already gone into next door when we arrived."
Justin Brookman, who lives next door, said: "We started hearing fireworks, like the slates popping and banging and then massive flames.
"In the space of five minutes you could not see anything in the whole street.
"I feel for the people who live there."
Related Internet Links
The BBC is not responsible for the content of external sites.