People in Wales respond to cuts consultation promise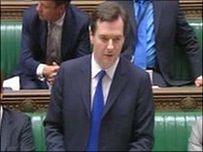 The UK government has set out plans on how it will make major cuts in public spending over the next four years.
Chancellor George Osborne promised a "fundamental reassessment" of the way government works and announced a new "star chamber" within the cabinet to oversee the process.
Initially it will be chaired by the chancellor, with Chief Secretary of the Treasury Danny Alexander as vice-chair.
It will be staffed by ministers with relatively small departmental budgets.
Other ministers will be allowed to join if they are judged to have performed well on spending decisions within their own departments.
Mr Osborne promised a major public consultation on spending cuts.
This will coincide with "public spending events" to be held over the summer before major decisions on cuts are made in a public spending review in November.
The BBC's Politics Show Wales has canvassed the opinion of people across Wales to see what kind of responses the government can expect.
Chris Jackson, owner of the Welsh Mountain Zoo in Colwyn Bay, Conwy county, told the Politics Show Wales he feared ministers would only listen to those they chose to listen to.
"If they hear discordant noises they will ignore them," said Mr Jackson.
"But I hope that the consultation takes on board some of the very important business sectors such as tourism which are working at a disadvantage when compared with Europe for example."
Mr Jackson said raising VAT again would hit his zoo in terms of the price of electricity and gas.
"Clearly there's going to be some squeezing around the margins," he said.
"If the pain is spread fairly then that's fine. If they do something about tax evasion and avoidance then that's fine.
"If they can draw in the extra money then I think we can all feel better about that."
Janet Hudson, a cafe owner from Prestatyn, Denbighshire, said: "I think that the man in the street would appreciate a thorough audit of every penny that the government spends before they start cutting people's benefits and wages.
"But the government has shown that they intend to change things."
Ms Hudson said she thought the new coalition government had been very open with the public so far.
"It will stop people saying they don't know what we need, or they don't know what they're talking about, because they're in London and we're over here.
"People feel included, whether they take any notice remains to be seen and they will be judged on that."
Graham Read, an A-level examiner from Wrexham, said public consultation on cuts sounded like "a nice idea on principle".
He said: "Given that it's obvious there's going to be huge cuts then I suppose at least they might go through the motions of asking people.
"If they get an idea of people's priorities then they might be able to just tweak where they make the cuts a little bit to make it a bit more palatable."
Dr Read said he would be in favour of cutting the levels of management in many of the public services.
"There's too many managers to my mind and they're highly paid," he said.
"I don't think our input will actually change very much, but it will get all of us thinking about it before the big event."