Expats return home to celebrate Shetland Hamefarin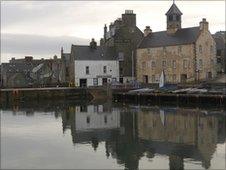 A fortnight of homecoming celebrations has begun on Shetland.
More than 600 expatriates are expected to return to the islands for a series of social, educational and nostalgic events.
The festival, known as Shetland Hamefarin, is celebrated once every 25 years.
Visitors are expected from as far as North America, Australia and New Zealand, returning home or tracing their ancestral roots.
Organisers say about 600 people with Shetland roots have registered as official "hamefarers". But there could be hundreds more visiting family and friends under their own steam.
Jim Stimpson has come from Vancouver.
He is visiting family and researching his father's roots. He has described Shetland as the "most peaceful, beautiful, warm and delightful experience."
He added: "It's the friendliness of the people. There's an ease, a peace, a pleasantness and an acceptance and an embracement that's hard to find in other places."
This is the third time the festival has taken place, apart from a special Millennium Hamefarin held in 2000.
Events will include music and dance sessions, guided tours and lectures and demonstrations of crafts and old photographs.
Related Internet Links
The BBC is not responsible for the content of external sites.