John Travolta donates to Mandela children's charity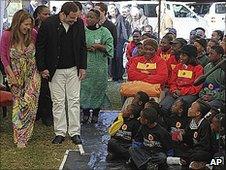 Hollywood actor John Travolta has donated 70,000 rand (£6,300) to the Nelson Mandela Children's Fund during a visit to South Africa.
The film star met children the foundation has supported and sang and danced with them.
"Children keep you humble. Children keep you grounded," said the actor, whose wife is expecting another baby.
Travolta, his wife Kelly Preston and his daughter Ella are staying in the country for a few days.
His 16-year-old son Jett died in the Bahamas last year. Jett, who had Kawasaki disease - which causes inflammation of the blood vessels in young children- suffered a fatal seizure at the family's holiday home.
Travolta, a spokesman for the Australian airline Qantas, will be staying in South Africa to support the Australian World Cup team.
Mandela set up the fund to provide a variety of services for children, including support for street children and the children of refugees.
Its plans include a children's hospital to be built in Johannesburg.
A recorded message from Mandela was played at Saturday's event. He urged people to protect society's "most valued asset, its children".
Travolta urged other stars to use their status to contribute to Mandela's legacy.
Related Internet Links
The BBC is not responsible for the content of external sites.